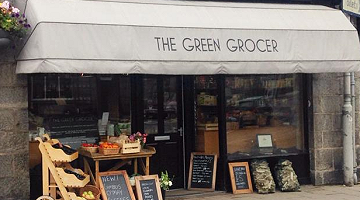 Fruit and Veg Boxes - Download Your Order Form Here.
Where possible, we select for our fruit and veg boxes the best, fresh produce direct from farms and growers local to our region. (We are realistic; we can't offer bananas grown locally.....)
With a totally variable box size, we aim to make sure our boxes will suit any household. Please note that box contents will change on a weekly basis depending on seasonal availability. As a guide £10 boxes are the most popular and tend to suit 2 people per week.
If you'd like other groceries included in your box each week, just note that on the sheet, telephone or email us and we'll have them ready for you to collect or deliver them with your box.
Delivered boxes will be invoiced via email each week. Collected boxes should be paid for at time of collection.
Because most of our produce is unwashed (and unwrapped) please wash all items thoroughly before use.